Understanding How E-Verify Works and the Benefits of Working with an E-Verify Company
Anyone looking to work in the United States needs government authorization to do so. The government, therefore, requires employers to carry out a mandatory verification exercise for every new hire within a few days of onboarding the new employee. 
This is where an E-Verify company steps in.
With the help of an E-Verify company, an employer can ensure that its hiring process stays compliant with federal laws.
It will only be onboarding individuals who have the legal authorization to work within the country. In other words, they can be sure that they have a lawful workforce.
More information about E-Verification
It is illegal for any company to employ anyone who is not authorized to work in the U.S. The process begins with Form I-9, which the new employee must fill upon accepting the job offer and assuming their new role.
Employers must review the Form I-9 and confirm that the documents provided by the employee show their identity and employment eligibility and must record the same in the form. This requirement became legal in the United States in 1986, and no employee is exempt from it. 
The E-Verify platform is an internet-based database (compiled and offered through the U.S Department of Homeland Security) where employers can easily confirm the employment eligibility of a new hire — either directly or through an E-Verify company. 
After an employee fills out the verification form (Form I-9), the system E-Verifies the employee by comparing the employee and Employment Eligibility Verification information to the databases of the U.S. Department of Homeland Security (DHS) and the Social Security Administration to confirm employment eligibility. 
Is E-Verify Same as an Employee Background Check?
No. E-Verify is different from an employee background check. Although both exercises involve some form of verification, E-Verify does not check the new hire's criminal background, credit history, employment history, educational history, or any of the record checks typical of a regular employee background check. 
Instead, E-Verify reveals only the legal employment status of the employee.
E-Verify is an essential part of every recruiting process in the U.S. As such, every employer relies on E-Verify in addition to a comprehensive employee background check to ascertain if a candidate is fit to work within the firm. 
The good news is that the same company can conduct both E-Verify and employee background checks. This makes the process easier and less stressful. See here for more information. 
Are U.S Citizens Exempt from E-Verify?
Due to the diverse nature of the U.S. population, all workers must produce evidence of permit or authorization to work in the U.S, including citizens.
Keep in mind that all U.S. citizens are automatically permitted by law to work in the country but must fill out the Form I-9 for record purposes. 
Employers are responsible for ensuring that every employee complies with the Form I-9 rule. However, in certain instances, employment contracts and employees are exempt from the E-Verify federal contractor rule. 
Benefits of Working with an E-Verify Company
When working with a trusted verification company like Pre-Employ, you can expect an integrated solution that incorporates E-Verify into the Form I-9 solution. See here for more information on our Form I-9 service.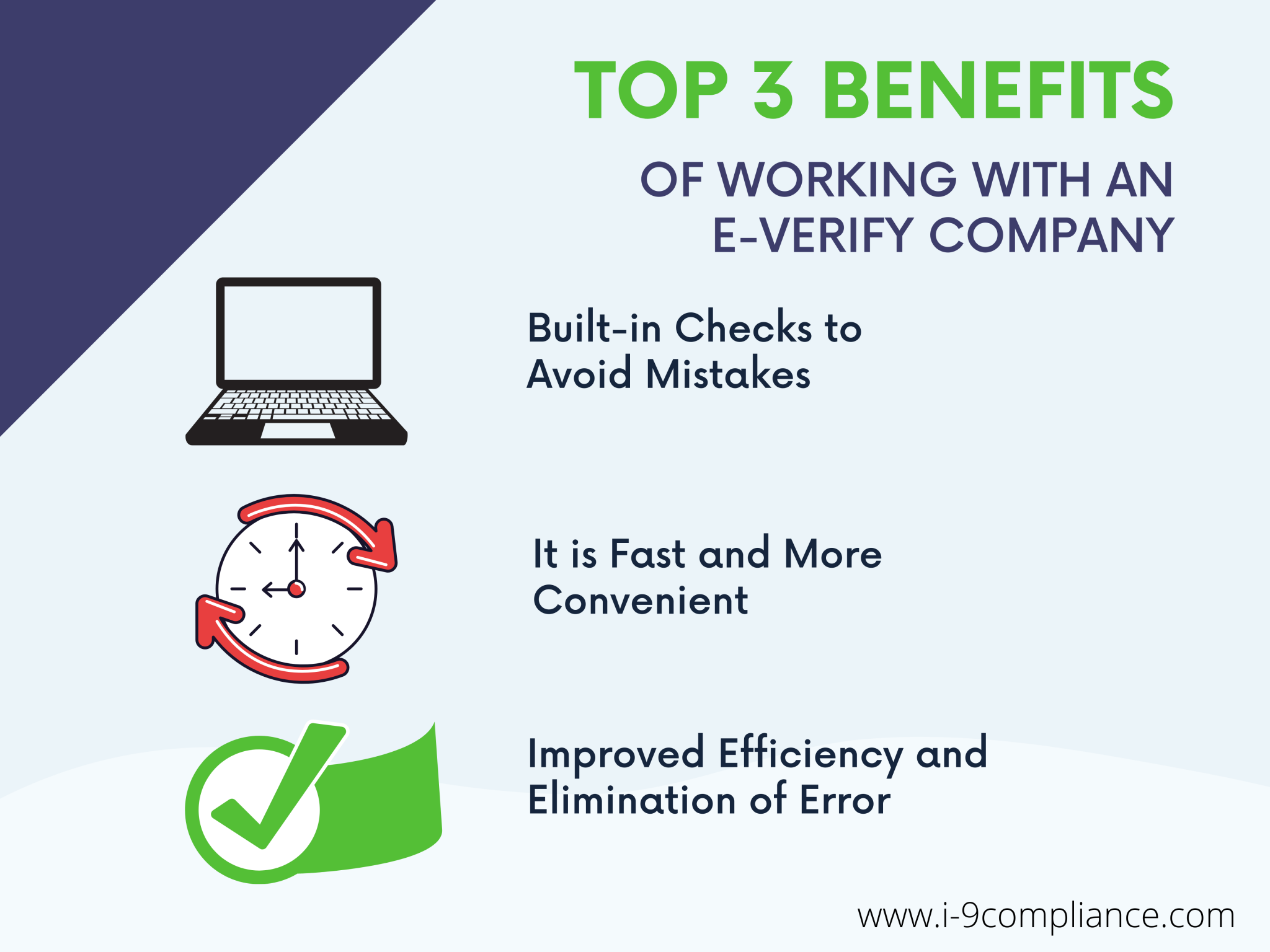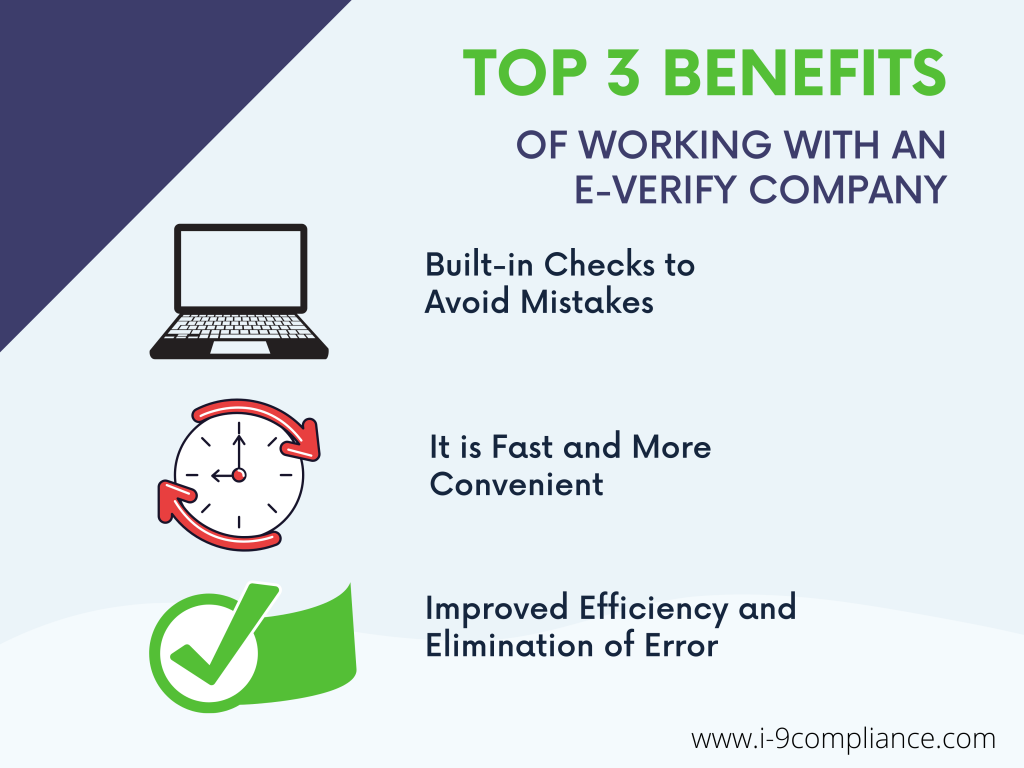 1. Built-in Checks to Avoid Mistakes
A company that is experienced in running these checks understands the importance of accuracy and avoiding mistakes. For instance, when you re-verify employees with temporary work authorization, you likely E-Verify twice. There is no need to E-Verify a second time. Working with an experienced E-Verify company saves you from possible penalties. 
An integrated electronic Form I-9 and E-Verify solution or software have a built-in notification and innovative data validation system that helps you avoid costly mistakes and comply with regulations.
2. It is Fast and More Convenient
Employers can take care of E-Verification themselves, but with the help of an employee background check company, the process is faster and more convenient. In most cases, employee background checks come as an integrated service with E-Verify. This means that companies can also save costs. 
Submission of the I-9 form and E-Verification must be completed within three days after an employee assumes work. Therefore, one benefit of working with an employee background check company is getting the job done on time.
3. Improved Efficiency and Elimination of Error
In addition to using software that makes the verification process seamless and accurate, an employee verification company only has to enter each set of data once. With an electronic I-9 solution that seamlessly integrates E-Verify into the system, you only enter employee data once. This helps to save time and money. 
Why Choose I-9 Compliance?