What Triggers an I-9 Audit?
In 1986, Congress passed The Immigration Reform and Control Act (IRCA), making it illegal for U.S. employers to hire workers that do not have the legal authority to work in our nation. To verify an employee's ability to work here legally, hiring companies must fill out the Form I-9 and submit it within three days of the first day of work. 
This process has become more complicated since becoming law because of the constant format changes and the type of forms available. When an organization fails to comply with rules and regulations governing workers' employment, this can cause federal agencies like Immigration and Customs Enforcement (ICE) to conduct an audit. What triggers an I-9 audit can vary widely, making it vital to work with a premier I-9 compliance service like Pre-employ. 
Common Triggers of an I-9 Audit
The Form I-9, and all of its requirements and versions, can easily lead to errors, which raises red flags for ICE. The most seemingly smallest of mistakes can cause this to happen and potentially cost a company substantial fines and possible sanctions. Understanding what triggers an I-9 audit can help your organization avoid this often costly process. 
Below are some of the most common reasons ICE or DHS might want to inspect your I-9 records:
Homeland Security Reviews
As massive as the employment verification data database is, the Department of Homeland Security can use advanced analytic software to regularly screen for inconsistencies, data anomalies, and other non-compliance red flags. This agency can also use its technologically advanced system to identify troubling patterns and trends within specific regions that might warrant an audit of organizations in those zones. 
If data suggests issuing an audit, DHS or ICE will give a Notice of Inspection (NOI) to the targeted companies. Some of the most frequent non-compliance issues these two agencies come across include the following: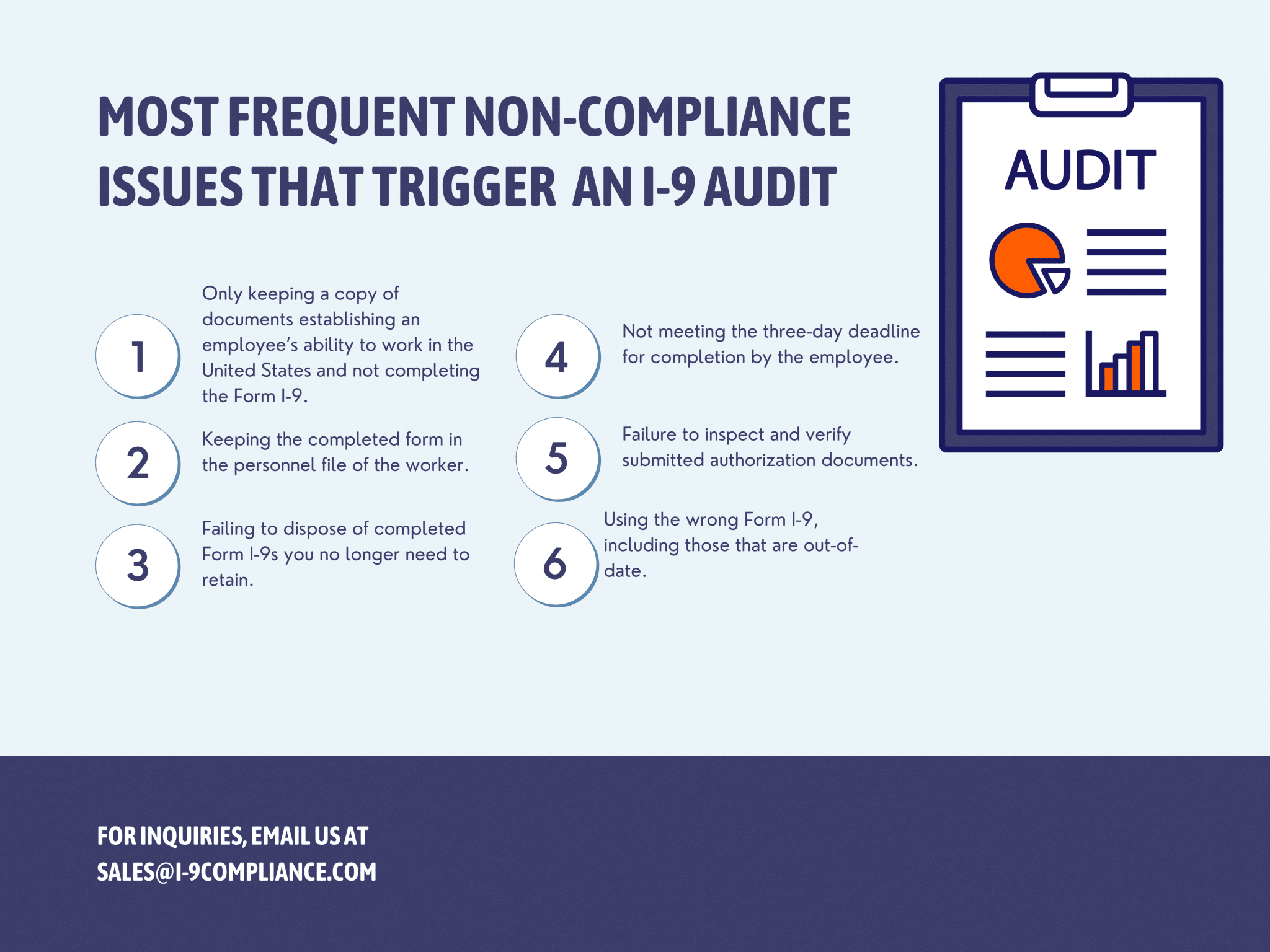 Tips from Potential, Current, or Former Employees
Surprisingly, a common trigger for an I-9 audit is tips made by employees. Situations involving current staff members believing they discovered non-compliance hiring evidence are frequently leading to ICE or DHS audits. Incidents of terminated employees filing complaints because they feel an unauthorized worker has taken their job can also lead to these audits. 
It's also not unusual for a job candidate who received an adverse hiring decision to report a company to these federal enforcement agencies. This can happen because they believe their immigration status was not adequately vetted or wrongly deemed not authorized for work.
Other Federal Agencies May Share Information Triggering an Audit
It's important to remember that agencies like ICE and DHS are closely connected. They share information with other crucial federal departments like the U.S. Department of Justice (DOJ) or the Federal Bureau of Investigation (FBI), to name a few. If these outside agencies find evidence showing possible I-9 non-compliance, this information gets passed along, and an NOI will get issued. 
Having a multi-agency investigation into your organization's I-9 records is a worst-case scenario for many managers and owners. Ensuring that your business is always in compliance by using state-of-the-art software designed to help you accomplish this goal is crucial. Human error is one of the biggest culprits when trying to determine what triggers an I-9 audit. Relying on professional I-9 software firms like Pre-employ can help you mitigate this risk and avoid complicated investigations.
Pre-employ Helps Companies Avoid What Triggers an I-9 Audit
The majority of employers who undergo an I-9 audit didn't purposely set out to falsify their documents or intentionally circumvent the law. Honest mistakes happen all the time when filling out and keeping these forms, but these errors can still be costly and incur hefty civil fines. Knowing what triggers an I-9 audit is only half the battle. Companies want a solution that can help maintain their legally required records and minimize mistakes. They want to make the E-Verify process simplified, which means the need for cutting-edge technological tools to do so. 
At Pre-employ, our state-of-the-art software gives you a centralized location to submit, store, and retrieve employee work authorization documentation. We also work with you to avoid costly I-9 compliance document penalties. Our firm achieves this by providing an automated I-9 compliance and E-Verify solution to maintain federal regulatory standards.
From electronic submission to compliant record management, contact us to learn more and get a free quote!